Oct 6, 2020 3:10 PM ET
iCrowd Newswire – Oct 6, 2020
Zion Market Research has published a new report titled "Chemotherapy Devices Market by Product (Cannula, Pump, Catheter, and Others) and by End-User (Home Care, Clinics, and Hospitals): Global Industry Perspective, Comprehensive Analysis, and Forecast, 2017—2024". According to the report, the global chemotherapy devices market was valued at approximately USD 11.1 billion in 2017 and is expected to generate around USD 18.8 billion by 2024, growing at a CAGR of around 7.9% between 2018 and 2024.
Cancer is caused by uncontrolled and abnormal growth of cells. It can spread to other body parts and is one of the most fatal global diseases. Tobacco is responsible for around 33% of cancer cases worldwide. Poor diet, obesity, excessive alcohol consumption, and low physical activity are responsible for around 10% of cancer cases, exposure to environmental pollutants and ionizing radiation, infections, such as hepatitis B, hepatitis C, Epstein–Barr virus, human papillomavirus infection, and human immunodeficiency virus (HIV).
Get PDF Sample Copy of this Report to understand the structure of the complete report @ https://www.zionmarketresearch.com/sample/chemotherapy-devices-market/news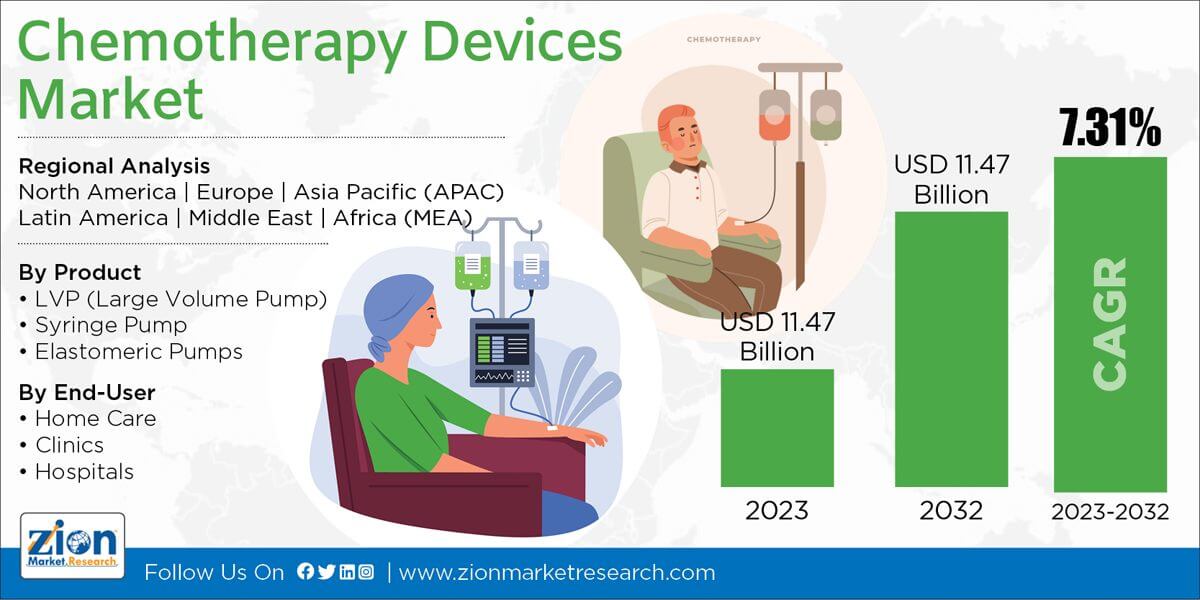 Cancer can be treated by using several techniques, such as surgery, chemotherapy, radiation therapy, immunotherapy, hormonal therapy, targeted therapy, stem cell therapy, and precision medicine. Chemotherapy involves blocking the progress of cancerous cells. Sometimes, chemotherapy is also used to ease cancerous symptoms by reducing the pain causing tumors. Chemotherapy can be directed orally as a pill, injected into body cavities, veins, muscles, or the spinal fluid. Currently, mostly chemotherapy is directed intravenously though oral chemotherapy medications are gaining wide acceptance across the world. Chemotherapy drugs are normally given in cycles. The cycle contains specific days' medication followed by a break and recovery time. A chemotherapy cycle typically continues for one to four weeks and is increased. Each chemotherapy course is diverse but usually consists of four to six sessions. According to the Cancer Research UK, cancer was caused almost 9.6 million deaths worldwide in 2018. Most cases of cancer can be averted by following a healthy diet with lots of whole grains, vegetables, fruits, avoiding smoking and too much alcohol, and getting timely vaccination against infectious diseases.
The rising occurrences of multiple cancer types, such as sarcoma, lung cancer, lymphoma, myeloma, and breast cancer, are likely to act as the major growth driver for the chemotherapy devices market globally. Cancer is the second prominent cause of death globally. Furthermore, growing stress on research and development in oncology and the rising demand for precise and biological drug therapies are likely to propel this market in the future. However, unwillingness showed by patients to undergo chemotherapy might limit the chemotherapy devices market globally.
The chemotherapy devices market is segmented into product and end-user. By product, this market is segmented into cannula, pump, catheter, and others. The end-user segment includes home care, clinics, and hospitals.
Europe is likely to be the prominent region in the forecast time period, due to the increasing number of geriatric population, growing government expenditure on chemotherapy procedures through the National Health Service (NHS). The North American region is projected to generate substantial revenue in the future, due to the increasing occurrences of multiple types of cancers. The Asia Pacific chemotherapy devices market is anticipated to grow rapidly in the upcoming years, due to rising awareness regarding cancer diagnosis and treatment.
Some key players of the chemotherapy devices market include Baxter International Inc., B. Braun Melsungen AG, Advanced Chemotherapy Technologies, Becton, Dickinson and Company, Halyard Health, Terumo Corporation, Fresenius Kabi, Moog Inc., Smiths Group PLC, Zyno Medical, and Micrel Medical Devices S.A.
This report segments the global chemotherapy devices market as follows:
Global Chemotherapy Devices Market: By Product
Cannula
Pump
Catheter
Others
Global Chemotherapy Devices Market: By End-User
Home Care
Clinics
Hospitals
Global Chemotherapy Devices Market: By Region
North America
Europe
Asia Pacific
Latin America
The Middle East and Africa
You can Buy This Report from Here @ https://www.zionmarketresearch.com/buynow/su/chemotherapy-devices-market/news
Contact Information:
Zion Market Research
244 Fifth Avenue, Suite N202
New York, 10001, United States
Tel: +49-322 210 92714
USA/Canada Toll-Free No.1-855-465-4651
Email: [email protected]
Website: https://www.zionmarketresearch.com
---
Keywords: Chemotherapy Devices Market