Oct 5, 2020 12:58 PM ET
iCrowd Newswire – Oct 5, 2020
Zion Market Research has published a new report titled "Energy As A Service Market by Service Type (Generation, Operation & Maintenance, and Energy Efficiency & Optimization) and by End-User (Industrial and Commercial): Global Industry Perspective, Comprehensive Analysis, and Forecast, 2018–2024". According to the report, the global energy as a service market was valued at approximately USD 960 million in 2017 and is expected to generate revenue of around USD 12,179 million by 2024, growing at a CAGR of around 43.75% between 2018 and 2024.
The rapid adoption of renewable energy sources, such as solar, tidal, and wind, is expected to foster energy as a service market expansion in the upcoming years. The non-renewable energy sources due to their excessive utilization are depleting rapidly. According to the Bloomberg International Finance organization, the world is going to face a serious threat in terms of conventional energy resources, such as coal, petroleum, etc. This could be a much bigger issue in the upcoming period. Additionally, the consumption of traditional fuels causes carbon emission, leading to air pollution. To reduce air pollution and maintain the ecological balance of the Earth, there has been significant government intervention. Governments of different nations have significantly implemented and formulated regulations to lower carbon emissions. In recent times, the energy and power industry is witnessing a drastic shift from centralized electricity generation to a decentralized one. Business organizations are looking at renewable energy solutions for power generation rather than coal and other traditional energy resources. These are some factors likely to positively impact the energy as a service market in the upcoming years.
Get PDF Sample Copy of this Report to understand the structure of the complete report @ https://www.zionmarketresearch.com/sample/energy-as-a-service-market/news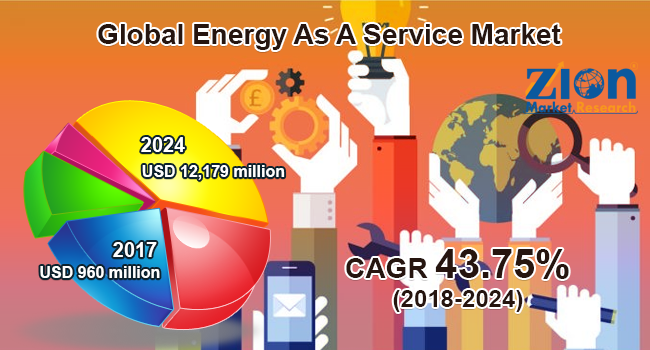 By service type, the energy as a service market is segmented into operation and maintenance, generation, and energy efficiency and optimization. The energy efficiency and optimization segment is projected to dominate the market in the upcoming years, due to the energy efficiency and optimization of services that enhance and maximize the existing energy consuming systems and equipment of any existing building infrastructure. By end-user, the market is bifurcated into commercial and industrial sectors. The commercial segment is projected to dominate the market in the forecast timeline, due to the growing construction of smart buildings and infrastructures globally.
North America, Europe, Asia Pacific, Latin America, and the Middle East and Africa are the regional segments of global energy as a service market. The North American region is likely to witness the highest growth in the global energy as a service market in the forecast timeframe. This regional market's growth can be attributed to various government standards, such as ISO 9001, ISO 14001, and ISO 50001, that is driving the expansion of energy service efficiency programs across the region. Moreover, the launch of new energy projects by the government and public organizations is anticipated to further drive the industry growth in the region over the forecast time period. Asia Pacific is predicted to contribute a substantial revenue share to the global energy as a service market. The cost-effective pricing of rooftop solar PV for their implementation in smart buildings and infrastructures for conserving energy and cutting energy costs are mainly likely to drive the energy as a service market globally during the forecast timeframe.
Some players involved in the global energy as a service market include General Electric, Siemens AG, WGL Energy, Engie, Contemporary Energy Solutions, Solarus, Bernhard Energy, EDF Energy, SmartWatt, and Edison Energy.
This report segments the global energy as a service market as follows:
Global Energy as a Service Market: Service Type Segment Analysis
Generation
Operation & Maintenance
Energy Efficiency & Optimization
Global Energy as a Service Market: End-User Segment Analysis
Global Energy as a Service Market: Regional Segment Analysis
Contact Information:
Zion Market Research
244 Fifth Avenue, Suite N202
New York, 10001, United States
Tel: +49-322 210 92714
USA/Canada Toll-Free No.1-855-465-4651
Email: [email protected]
Website: https://www.zionmarketresearch.com
---
Keywords: Energy as a Service Market