Oct 1, 2020 9:13 PM ET
iCrowd Newswire – Oct 1, 2020
Zion Market Research has published a new report titled "Hearing Aids Market by Product [Hearing Aid Devices (Receiver-In-The-Ear Hearing Aids, Behind-The-Ear Hearing Aids, Canal Hearing Aids, In-The-Ear (ITE) Hearing Aids, and Other Hearing Aid Devices) and Hearing Implants (Cochlear Implants and Bone-Anchored Systems)], by Technology (Conventional Hearing Aid and Digital Hearing Aid), and by Distribution Channel (Audiology and ENT Clinics, Pharmacies, Online Sales, and Others): Global Industry Perspective, Comprehensive Analysis, and Forecast, 2017–2024". According to the report, the global hearing aids market was valued at approximately USD 6.32 billion in 2017 and is expected to generate revenue of around USD 9.17 billion by the end of 2024, growing at a CAGR of around 5.45% between 2018 and 2024.
The increasing incidences of hearing disorders and hearing loss problems among the population have led to the sales of a large number of hearing devices in the market. Today, the hearing disabilities among infants and war veterans are one of the biggest concerns in the healthcare sector. Thus, there is a need for enhanced hearing aid devices since many remain untreated, especially among infants, which can further lead to speaking impairment and psychological disabilities among them. Furthermore, technological developments related to the products that combine cochlear implants and hearing aid technology to overcome the high-frequency hearing loss in patients is creating new opportunities for the players in the hearing aids market.
Get PDF Sample Copy of this Report to understand the structure of the complete report @ https://www.zionmarketresearch.com/sample/hearing-aids-market/news
The hearing aids market is segmented on the basis of product, technology, and distribution channel. By product type, this market is segmented into hearing implants and hearing aid devices. The hearing implants are further segmented into cochlear implants and bone-anchored systems. The hearing aid devices segment is further divided into receiver-in-the-ear hearing aids, canal hearing aids, in-the-ear (ITE) hearing aids, behind-the-ear hearing aids, and other hearing aid devices. The behind-the-ear hearing aid device segment held the maximum market share in terms of revenue, owing to better connectivity, high efficiency, and easy usage. The canal hearing aids segment is also likely to grow at a fast CAGR in the forecast time period, due to the growing demand for aesthetic and invisible appealing devices and the rising need for enhanced listening experience.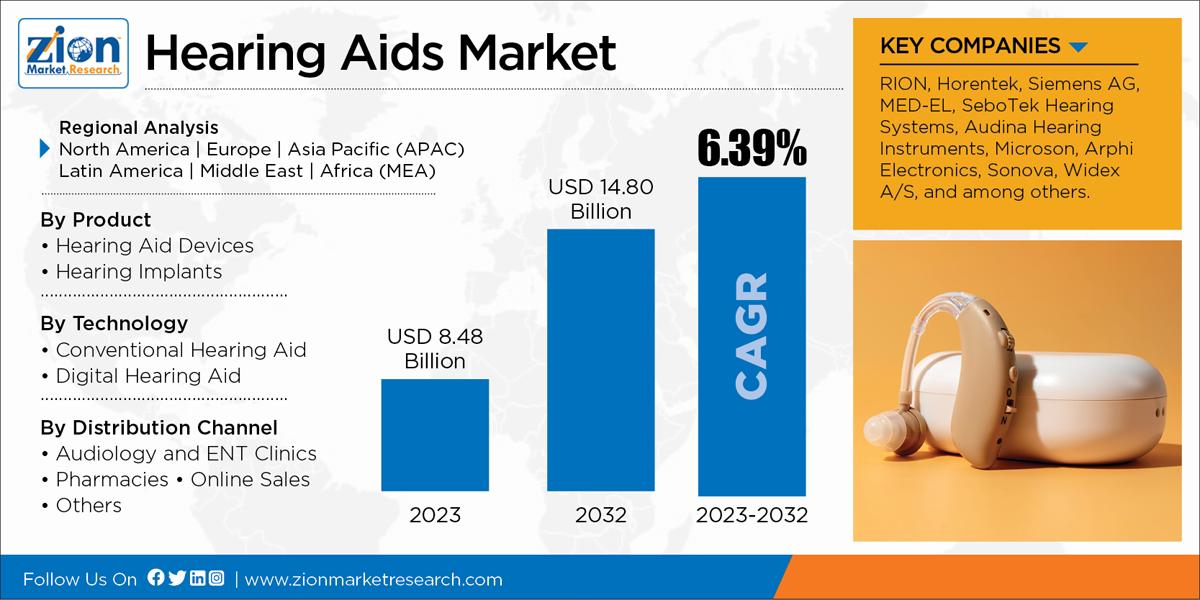 By technology, this market is segmented into the conventional hearing aid and digital hearing aid. The digital hearing aids segment accounted for a larger market share, owing to their ability to provide enhanced listening experience even in noisy environments and wireless connectivity with smartphones. This segment is likely to grow at the highest CAGR in the forecast time period, owing to its high efficiency and better performance.
By distribution channel, this market is segmented into audiology and ENT clinics, pharmacies, online sales, and others. The audiology and ENT clinics segment held the largest market share in 2017 and is estimated to surpass USD 5 billion by 2024. Moreover, online sales are also likely to increase the revenue for vendors by reducing the waiting time for patients in hospitals and clinics.
Regionally, the hearing aids market is segmented into Europe, North America, Asia Pacific, the Middle East, and Africa, and Latin America. Europe and North America are the leading contributors to the global hearing aids market. In 2016, Europe alone accounted for the highest market share in terms of revenue followed by North America, owing to growing geriatric population, high patient awareness, government initiatives, reimbursement scenario, speech and language therapies, and technological innovations.
Some leading players in hearing aids market include Horentek, MED-EL, Audina Hearing Instruments, Microson, SeboTek Hearing Systems, Sonova, RION, Arphi Electronics, Siemens AG, and Widex A/S.
This report segments the global hearing aids market as follows:
Global Hearing Aids Market: Product Segment Analysis
Hearing Aid Devices

Receiver-In-The-Ear Hearing Aids
Behind-The-Ear Hearing Aids
Canal Hearing Aids
In-The-Ear (ITE) Hearing Aids
Other Hearing Aid Devices

Hearing Implants

Cochlear Implants
Bone-Anchored Systems
Global Hearing Aids Market: Technology Segment Analysis
Conventional Hearing Aid
Digital Hearing Aid
Global Hearing Aids Market: Distribution Channel Segment Analysis
Audiology and ENT Clinics
Pharmacies
Online Sales
Others
Global Hearing Aids Market: Regional Segment Analysis
Contact Information:
Zion Market Research
244 Fifth Avenue, Suite N202
New York, 10001, United States
Tel: +49-322 210 92714
USA/Canada Toll-Free No.1-855-465-4651
Email: [email protected]
Website: https://www.zionmarketresearch.com
---
Keywords: Hearing Aids Market