Oct 6, 2020 3:10 PM ET
iCrowd Newswire – Oct 6, 2020
Zion Market Research has published a new report titled "Process Oil Market by Type (Naphthenic, Paraffinic, Aromatic, and Non-carcinogenic) and by Application (Tire & Rubber, Polymer, Textile, and Others): Global Industry Perspective, Comprehensive Analysis, and Forecast, 2018—2024". According to the report, the global process oil market was valued at approximately USD 4.52 billion in 2017 and is expected to generate around USD 5.81 billion by 2024, growing at a CAGR of around 20.2% between 2018 and 2024.
Process oil is a blend of aromatic compounds, naphthenic, and paraffinic. The molecular weight of process oil varies at different temperatures. It is mainly treated as a raw material that aids in engaging with compounds in various sectors, such as polymers, rubber, and textile. The global process oil market is likely to experience a high rate of growth in the future, due to its usage and application globally. The development of the process oil market can be mainly attributed to the rising industrialization and increasing mechanization, which, in turn, is likely to lead to an increased process oil demand. In addition, the ongoing rapid developments and modernization in the automobile and transportation sectors are projected to positively impact this market. The utilization of process oils in various end-use industries, such as rubber, polymer, and personal care, is the primary factor that is likely to boost this market on a global scale in the upcoming years. However, the presence of carcinogens polycyclic aromatic hydrocarbons (PAH) and polycyclic aromatics (PCA) in process oils might limit this market's development in the upcoming years.
By type, the process oil market includes naphthenic, aromatic, paraffinic, and non-carcinogenic. The naphthenic segment is anticipated to dominate the market in the forecast timeframe, as naphthenic is used as a chemical component for various applications. Additionally, developed economies, such as North America, account for nearly 60% of naphthenic oil production globally.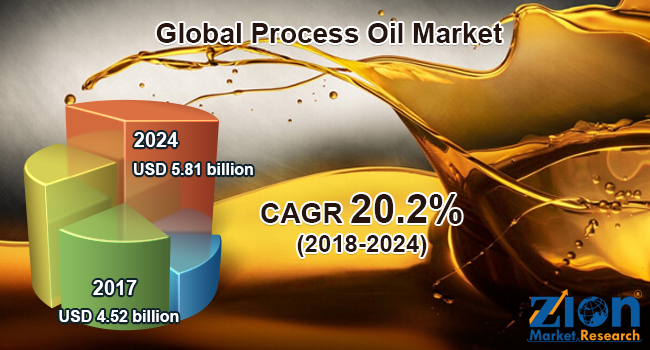 By application, this market is segmented into the polymer, tire and rubber, textile, and others. The tire and rubber segment is predicted to dominate the market in the upcoming years, due to the rapid production of automobiles and the rise in the demand for tires. Additionally, process oil is also used to improve the various attributes of rubber compounds.
By region, the market for process oil includes North America, Europe, Asia Pacific, Latin America, and the Middle East and Africa. The Asia Pacific process oil market is likely to grow significantly in the future. This regional market's growth can be attributed to the growing sales of vehicles and automotive in the region, which, in turn, is expected to boost the consumption of process oil. The ongoing transformations and modernization taking place in the automotive sector are estimated to further drive this regional market over the forecast time period. Latin America is expected to provide good opportunities for the process oil market players. The region's tire manufacturing industry is heavily dependent on China. Additionally, the trade rules and laws formulated by the governments of Venezuela, Argentina, etc. coupled with high investments made for region's industrialization is anticipated to foster this regional market.
Some of the industry players operating in the process oil market include Process Oils Inc., Panama Petrochem Ltd., Shell Global, Calumet Specialty Products Partners L.P., LUKOIL Oil Company, Phillips 66 Company, Chevron, Avista Oil AG, and Repsol, among others.
This report segments the global process oil market as follows:
Global Process Oil Market: Type Analysis
Naphthenic
Paraffinic
Aromatic
Non-Carcinogenic
Global Process Oil Market: Application Analysis
Tire and Rubber
Polymer
Textile
Others
Global Process Oil Market: Regional Analysis
North America
Europe
Asia Pacific
Latin America
The Middle East and Africa.
You can Buy This Report from Here @https://www.zionmarketresearch.com/buynow/su/process-oil-market/news
Contact Information:
Zion Market Research
244 Fifth Avenue, Suite N202
New York, 10001, United States
Tel: +49-322 210 92714
USA/Canada Toll-Free No.1-855-465-4651
Email: [email protected]
Website: https://www.zionmarketresearch.com
---
Keywords: Process Oil Market