According to research published by the U.S. Center for Disease Control and Prevention (CDC), one out of every 31 patients treated in a medical facility has a health care-associated Infection (HAI) – an infection acquired while treated in that facility. And the costs associated with those HAI's is huge – estimated at $28.4B in direct, and $12.4B in indirect costs annually. While many healthcare settings use commercially available disinfectants to clean and sanitize devices, equipment, and premises, an in-house hypochlorous water generator can help in that effort.
Sound Business Case for Broad Scope of Use
Research suggests that hypochlorous water is highly effective in sanitizing healthcare and other medical settings. From nursing houses, elder care homes and senior's residences, to dental practices, hospital surgeries and chiropractic clinics – there's heightened risk in our current environment. And that's why most facilities are implementing enhanced cleaning and sanitization protocols.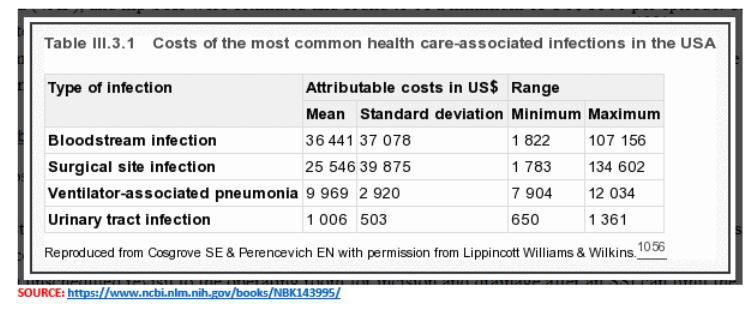 But implementing those protocols isn't cheap. An 80-percent alcohol-based, 1 gallon bottle of unscented liquid hand sanitizer, retails for approximately $26. Even a medium-sized health care facility will likely use hundreds (if not thousands) of gallons of that product annually. And that's just a single-use (hand sanitization) application. Having in-house capability, to produce unlimited quantity of HOCL-based antimicrobial handwash, can dramatically reduce those costs.
It's estimated that a 450-bed community teaching hospital could spend as much as $30,000 just for soaps, alcohol-based hand rinse, and hand antiseptic agents. An in-house HOCL water generator not only provides an always available supply of disinfectant, but it's also a practical, inexpensive, nontoxic sanitizing agent that's also proven against the COVID-19 virus. Therefore, the benefit of using highly-effective, low-cost HOCL-based disinfectant, far outweighs the costs that healthcare facilities are saddled with as a result of some common HAIs. 
Applications and Benefits
The most compelling benefit, for the use of HOCI in healthcare facilities, is that it can be produced on-premises. All it takes is combining water with non-iodinated salt, and using a simple to understand process of electrolysis.  Today's hypochlorous water generator is uniquely designed to fit in, discretely, in any healthcare setting, and requires minimal footprint.
And the disinfectant produced by these machines has wide-spread application, including:
– Mouth rinse in dental clinics, with no risk of gastrointestinal effects
– To clean implant surfaces of biofilm-contaminants
– Wound care
– Hand sanitization
– Disinfecting beds, wheelchairs, counters, table tops, shelves, and other touch-surfaces
– Cleaning rooms, floors, walls, doors, curtains, room privacy dividers and partitions
The use-cases listed above are typically standard procedure, applicable to most healthcare settings even in "normal" times. However, in today's enhanced health care aware environment, those procedures have greater importance. Should a care facility not practice those enhanced measures, for instance due to shortage of sanitizer or disinfectant, it can lead to devastating consequences.
The broad-based, and life altering application of hypochlorous water-based disinfectants, also means that having an inhouse HOCL water generator insulates the facility from supply chain disruption risk to critical supplies. Not only does this assure unlimited supply, but it also shields care facility budgets from shortage-related price increases, price gouging, and arbitrary rate hikes.