If you are on your way to becoming an entrepreneur or new in the accounting market, you might find difficulty finding the right software that matches your complex needs. It is essential to manage and keep your financial ratios in a business field. Wouldn't it be nice if you got a package that can help you with both? You can sit on your system and watch all your finances without leaving your account app. Moreover, you can easily perceive your sale fraction for this month and how your shares are performing. Mint and quick books are two software's worth considering for the accounting market. But based on your needs and budgets, I have come up with the comparison of QuickBooks vs Mint, so you can choose whatever suits you best.
Comparison at Glance
If you are an entrepreneur or business student, you must know how important it is to manage all your finances as it will help you plan all your financial planning in the future. Mint and QuickBooks are two globally famous platforms used by people and companies to manage their budgeting and accounting needs.
QuickBooks and Mint were both sold and produced by the same company. Let's see how you can compare and choose for yourself.
QuickBooks Online is designed to run your business account; it is an accounting solution for small business, while Mint puts all your finances and investment in one place. QuickBooks is paid and offers more services than Mint.
This article will further cover all the specs and features of mint and quick books. It will also highlight the difference between the two. Read along to find all the necessary information so that you can choose QuickBooks or Mint based on your preferences and needs. Let's get started.
1. Features
Mint provides bill reminders, bill tracking, taxation tool, credit card score viewer, and other specs that enable users to manage all their finances efficiently. Nevertheless, the quick book offers advanced features like sales tracking, automatic tax categorization, summary reports, and account list to give an insight into business progress.
While comparing both, QuickBooks can be considered the winner when we talk about features. Reports generated by QuickBooks are informative and detailed, while Mint does not create an informative report and usually includes income, spending, debt, and a few more. Before we further talk about quickbooks vs Mint, let's consider the features of both soft wares in detail.
One of the biggest benefits mints offers is that it lets you aggregate all your transactions or finances in one place. The report generated by Mint can instantly give you the answers to the queries like "how much did you invest" and "how did you make it?" It can help you with personal future financial planning and monitoring by showing your shopping trends and signaling you towards pending bills.
This software supports all major operating systems, i.e., Android, iOS, Windows, and macOS. Once you log in and set up your account, it will automatically fetch all the previous transactions.
Mint also notifies users of any uncertain or relevant changes in credit score reports through its credit card monitoring feature. Users can search for various loans, i.e., personal and student loans. It also keeps you informed of all the pros and cons of the loan providers so you can choose wisely based upon your needs. Nevertheless, Mint does not provide multi-currency financial management, which can require people who need to run businesses or companies.
QuickBooks is USA-based accounting software that was created by intuit. Organizations of any scale can use this to manage their accounting tasks effectively. It is a complete business application and offers all functionality required to manage finances. However, some features can only be accessed in its high price versions. It lets companies manage and execute all the tasks related to sales within no time, including inventory tracking, customer information, and many other business operations.
The main feature Quick book has that Mint cannot provide you is that it lets you see which invoices haven't been paid yet to detect troubled customers easily. Getting paid is a bigger problem for most businesses than selling the product.
Let's further discuss quickbooks vs Mint so you can get a better understanding of both soft wares. Both software will connect to your business account and file your transaction, but the quick book comes with a full double-entry accounting system-you can hand over the book to your accountants, and they will be happy with the data provided
Let's look at the features QuickBooks has that Mint cannot provide you with.
| | | |
| --- | --- | --- |
| Features | QuickBooks | Mint |
| Multi-Currency | ☑ | ✖ |
| Bank Reconciliation | ☑ | ✖ |
| Invoicing | ☑ | ✖ |
| Sales Tax Automation | ☑ | ✖ |
| Expense Tracking | ☑ | ✖ |
| Inventory Management | ☑ | ✖ |
| Account Dashboard | ☑ | ✖ |
| Billable Hours Tracking | ☑ | ✖ |
| Email Integration | ☑ | ✖ |
2. Plans and Pricing
Let us further analyze both software in the budget aspect, so you know better what to choose mint or QuickBooks.
Contrary to QuickBooks, Mint is free. Users can access every feature of Mint without having to pay for it. QuickBooks Online is not free and has four subscription plans which range from $20- to $60.Every level is tiered by many users and increased functionality. With higher tiers, you are provided with more functionality and detailed, in-depth reports.
QuickBooks also provides extra payroll management as add-ons and will cost $35 a month for different subscription levels. There is, however, no limit restriction to no vendors or transactions to each level. QuickBooks offers a free trial for 30 days to give an insight into all the functions before purchasing it.
Inventory management, tracking billable hours, budgeting, and advanced functionality is available only for the high price version of quick books, not low-paid packages. Let's have a look at the packages of the quick books.
| | | |
| --- | --- | --- |
| Package | User | Price (Per Month) |
| Simple | Single person | $25 |
| Essential | Max 3 people | $40 |
| plus | Max 5 people | $70 |
| Advanced | Max 25 people | $140 |
Comparing the prices, Mint is more budget-friendly.
3. QuickBooks vs Mint Ease of Use
Mint has a user-friendly interface with many graphics, so you can glance at whatever you want to see. You can easily use the software. In addition, it provides valuable alerts. It is not difficult to know where to put information or click to get reports.
However, many users have stated the synchronization issue with Mint. It may not work as correctly as it should be. For example, not coming through the data from all accounts. The synchronization issue can be a significant flick-off for the users.
QuickBooks can help you with all the data. QuickBooks advance is designed for non-accountants; however, it is a fully functioning accounting software with a certain amount of complexity. The complex accounting tasks can be done with minimal keystrokes. Once you understand how to use it, it will be the most efficient and effective tool for your accounting-related tasks.
The menu on the left side gives you access to certain functions like invoicing, reporting, or inventory regulation. Nevertheless, a quick book is time-consuming, and you will find yourself taking extra steps to reach your goal. For example, creating recurring invoices needs extra effort. First, create the invoice and then mark it as recurring.
4. Integrations
Talking about QuickBooks vs Mint, quick Books provide straightaway support for several third parties integration. It integrates in-house apps like Intuit's payroll and other platforms like PayPal, CRM, and Shopify. Almost 500 integrations are offered, containing particularly job costing or industry-specific apps.
Mint only provides one integration-Bitium. Even though the same company owns both, Mint does not give any third-party integration that limits the app's functionality. That means you cannot put your amount figure from Mint into tax filing. You will have to export the statistics in excel sheets first and then in TurboTax, which would be time-consuming.
Winner: Quick books as it provides third-party integration and Mint does not.
5. Mobile App
Mint is designed to be consumer software, so it has some great mobile apps-both for iPhone and Android. Moreover, it can be operated through the apple watch. Most of the accounting tasks that need to be done in the computer system and are time-consuming can easily be done by the Mint on your phones. As consumers want mobile apps, Mint is worth considering.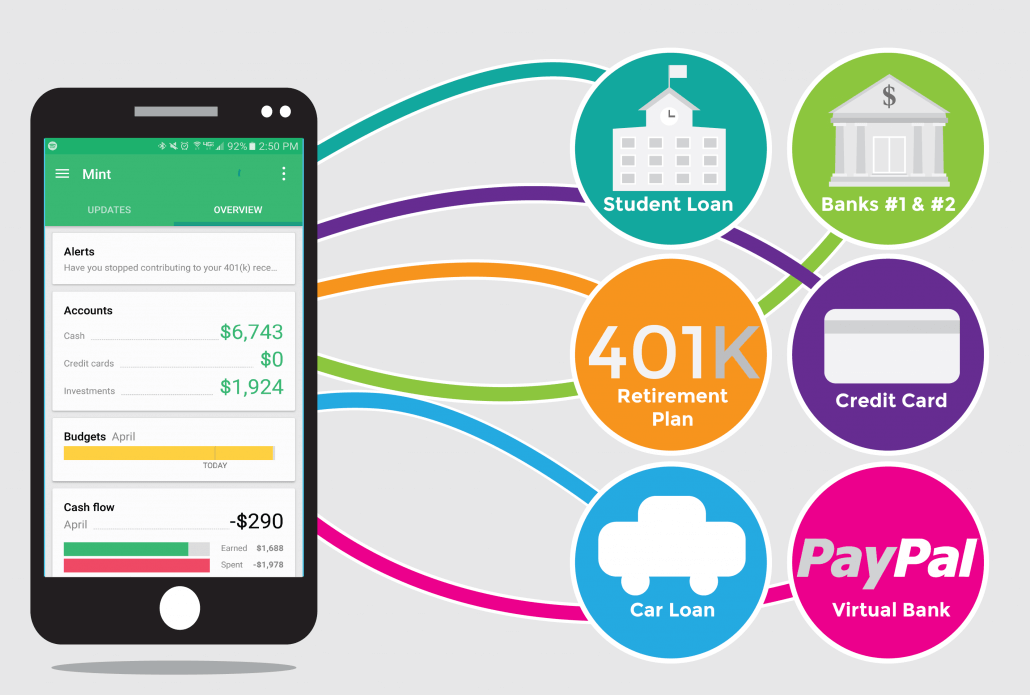 QuickBooks online is often not designed for mobile-oriented businesses. However, it functions well on the phone where required. You will scan the receipt and send invoices from the phone. It can be helpful while working on client premises or spending most of your time on the road.
6. Customer Support
Let's talk about the customer support of Mint vs QuickBooks. You will not get a lot of customer assistance while using Mint. There are some FAQs, user forums, and other support functions, including live chat on the website, but no contact number is given. You can email but have to wait for the response.
QuickBooks provides 24/7 customer assistance to its users. There are several knowledge base tutorials and webinars accessible to subscribers to help them with any service or product-related query. It assists the customer through multiple channels, i.e., calls, chats, and email. Several accountants, bookkeepers, and trainers help the customer or any accounting and support requirement.
7. Setup
To set up Mint, you will need to add all your accounts with their passwords. Mint will then automatically classify transactions. You cannot change the top order category; however, you can add subcategories. Mint remembers all the repeated transactions, so they will always go in the same box.
For setting QuickBooks, you will need to link it to your business bank account. As quick books is a cloud app, it runs in the browser. You do not have to install it on a desktop. It requires your basic business information. If you want to try the app before purchasing it, you can fill in the information of some other company to provide it with data and see how it works. Moreover, it also lets you load the function you need at the moment. That can be beneficial for beginners who want a usable app without filling in stuff that is not required.
8. Reports
Reports generated by Mint are not detailed and informative. However, it provides you with good net worth reports, and reports are clear and valuable, of course. However, you cannot get information about customers, inventory, vendors, or sales. It contains income, spending, debts, and a few more.
QuickBooks is a clean winner while talking about reports. It almost shows everything and has customizable reports. So you can generate your reports based on particular figures on which you run your business.
If you have a serious business going on, quick books would be a better choice than Mint.
Final Thoughts
Both QuickBooks and Mint are highly rated and globally used applications provided by intuiting that facilitate people with specific tools to help them with their accounting tasks or finance management.
Talking about quickbooks vs Mint, both platforms have different target audiences and user bases. However, people with business would be more intended towards quick books. It handles big jobs for you, including invoices, sales tax, or preparing tax filing. Moreover, you can easily observe the trends you need to follow with a quickbook report to expand your business.
While quick books are the best platform that can be used to carry out essential accounting tasks, Mint can be the best choice for individual budgeting and finance management. Mint can be good for people having tiny hustle businesses. If you work on platforms like upwork or freelancer that holds all your invoicing, Mint is worth conceding. If these are the cases, it is not wise to spend money buying QuickBooks online.
The difference mentioned in the article will help you choose quick books or Mint according to your needs. You have analyzed all the aspects of both software ware, now which software will you select for your finance management?